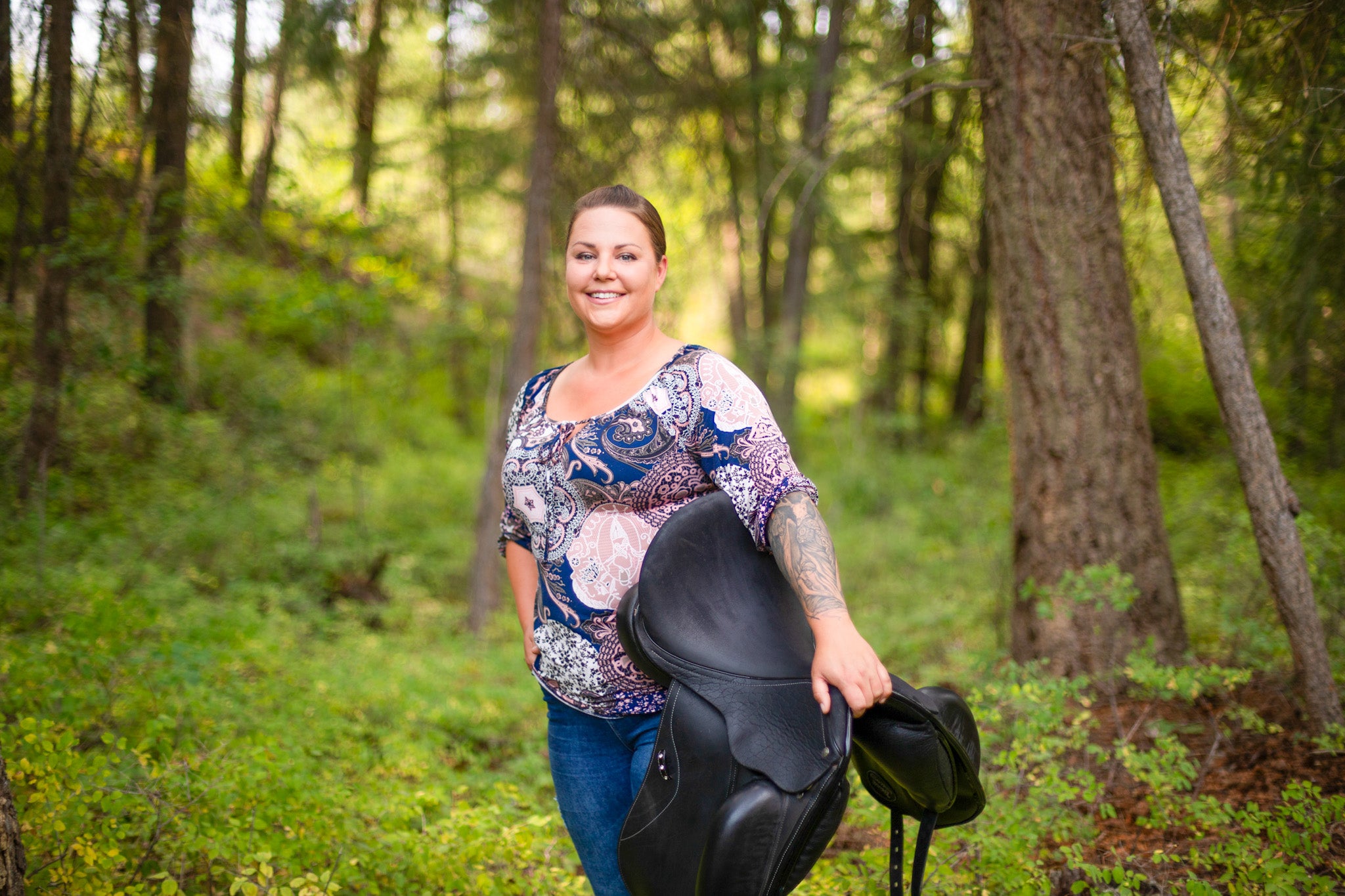 The horse-obsessed little girl that never gave up on her passion
"I have been involved with horses ever since I could remember. My passion started with riding my neighbour's quarter horses in Ottawa, Ontario.

That quickly turned into doing chores, cleaning stalls, and ANYTHING so I could get lessons at a local riding stable. I spent years in the Arabian horse show circuit, our family's first horses being Arabs.

In my teens, I discovered dressage and never looked back. My family started breeding Arabian sport horses for jumping and dressage, but we quickly realized that we, as small breeders, didn't need to create more horses as there were plenty out there.

I started my horse training business at 15 years old and was able to transfer it to BC when I moved out here in 2015. In 2017, after meeting my now husband, we purchased a farm in Kamloops, which we ran as a small boarding, training and lesson facility.

My fascination and interest in correct saddle fit has been a part of my horse training philosophy since I started riding dressage in 2006. I worked with Vicky Chalmers, Quebec/Ontario Custom Saddlery rep, as a client of hers to fit my horses in Ottawa.

In Kamloops, I worked with Krista Kay, who was the Western Canadian Custom rep at the time, for quite a few years.

When my husband and I had a baby, the heavy workload of running a farm quickly became too time-consuming for our small family, so we made the tough decision to sell and move closer to family in Barriere. I did not know at the moment how serendipitous that decision was, until Krista told me she was considering retiring from her business and was looking for someone to replace her. The timing couldn't have been any better.

After one year of extensive hands-on training, reading and studying countless books and articles, and training at the Custom Saddlery head office in South Carolina, I was an official representative of this amazing brand of saddle that I already loved for years before.

I am now a Society of Master Saddlers trainee Qualified Saddle Fitter, where I am undertaking the tedious process of learning the saddle fitting process from the highest-regarded saddle fitting school in the world.

I am happy to hang up my hat as a horse trainer yet still be involved in helping horses, and riders feel their best while under saddle. I offer my clients and their horses integrity, an openness for continued learning, and a willingness to truly hear what the horses and their riders say and feel, which continues to morph my passion for making horses feel their best."
- Brigitte Mitchell