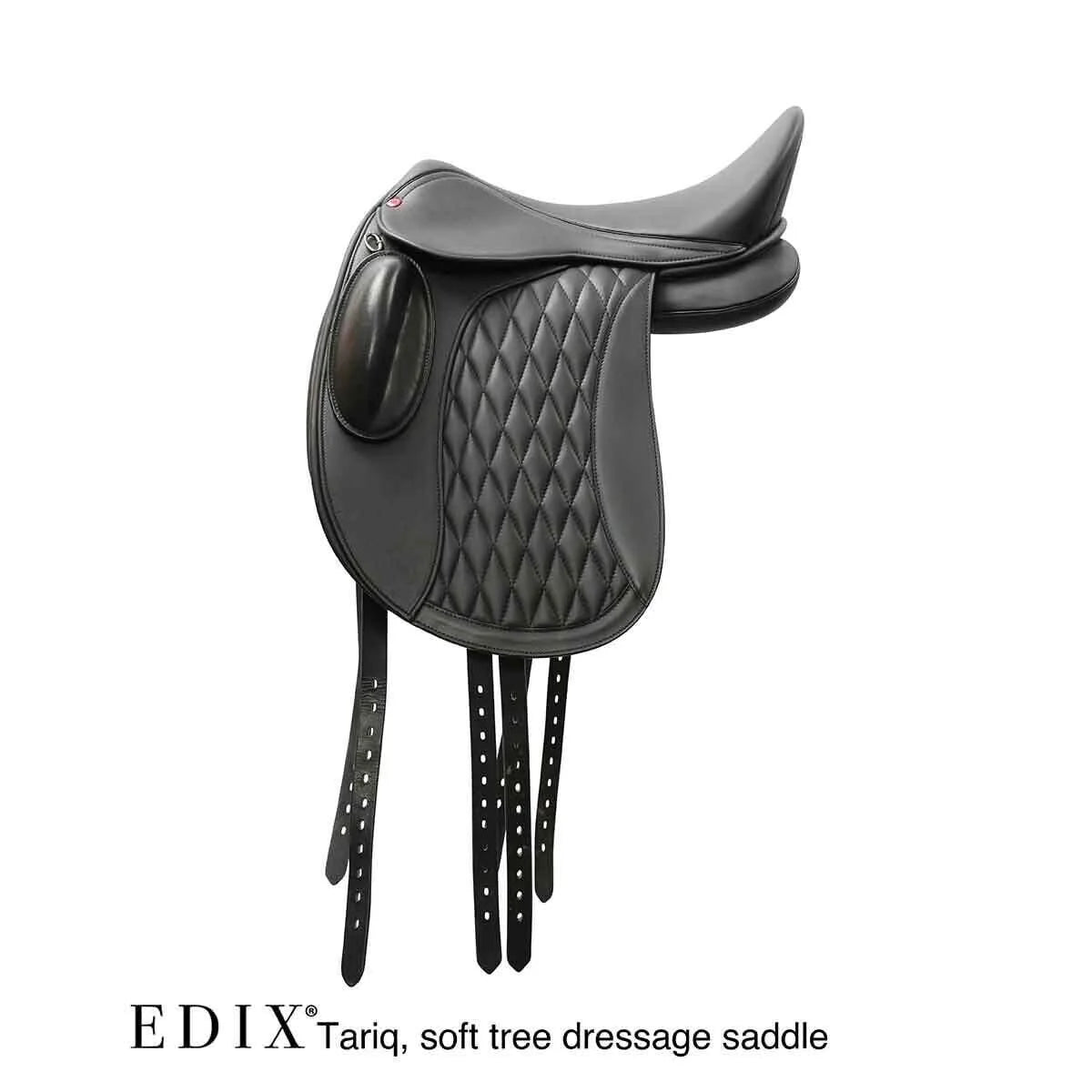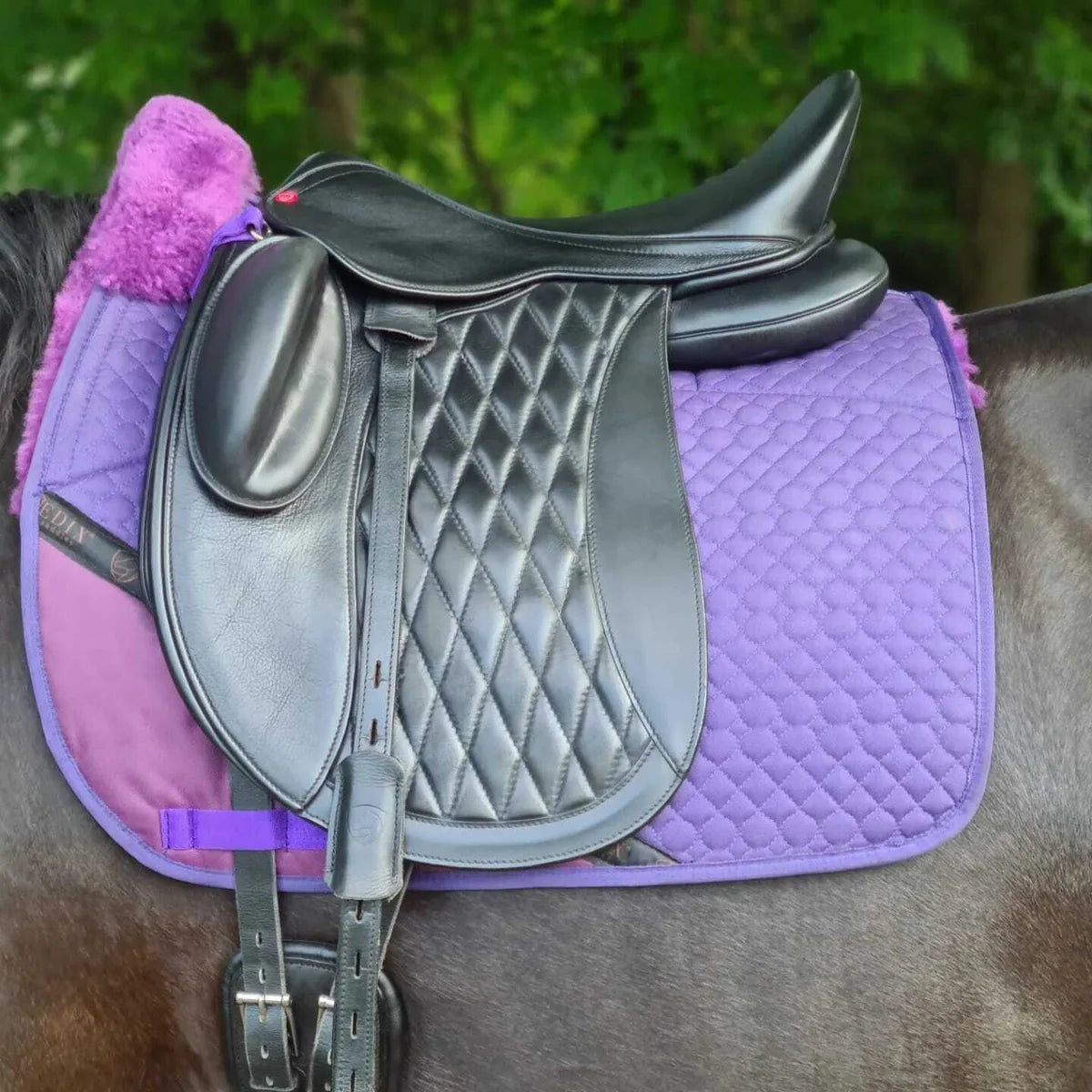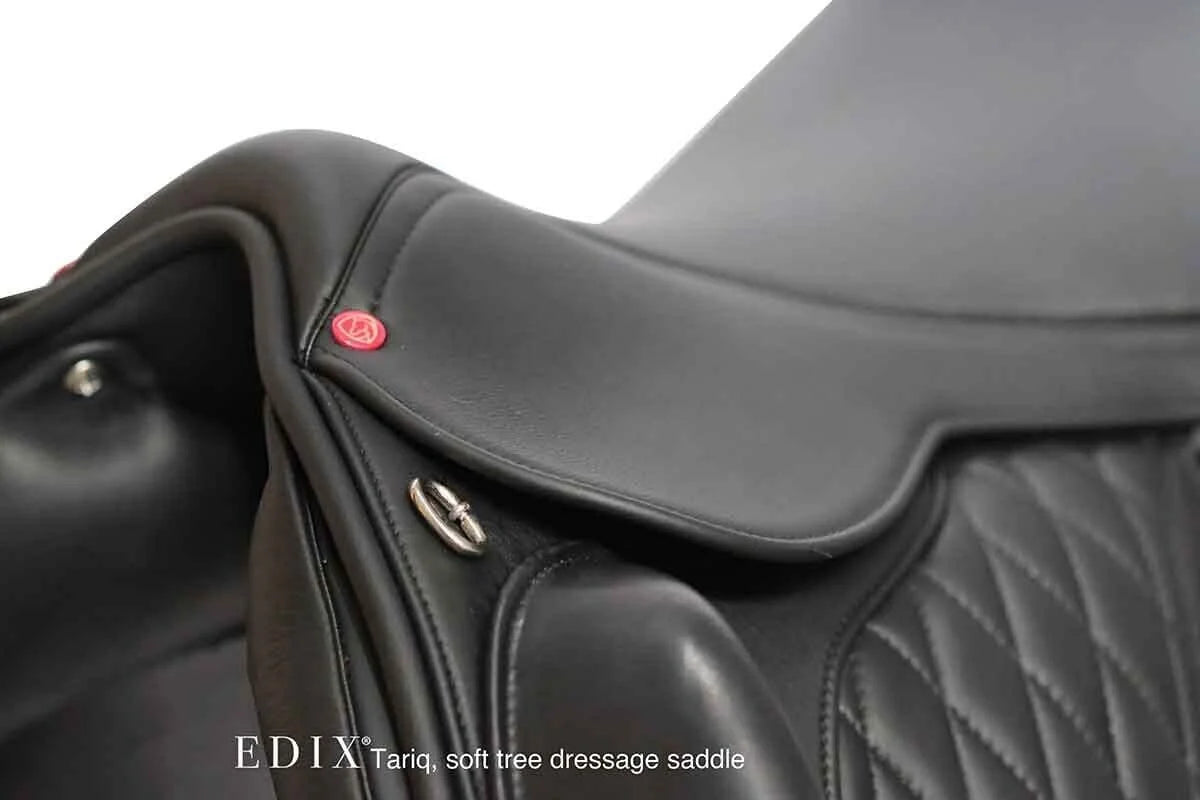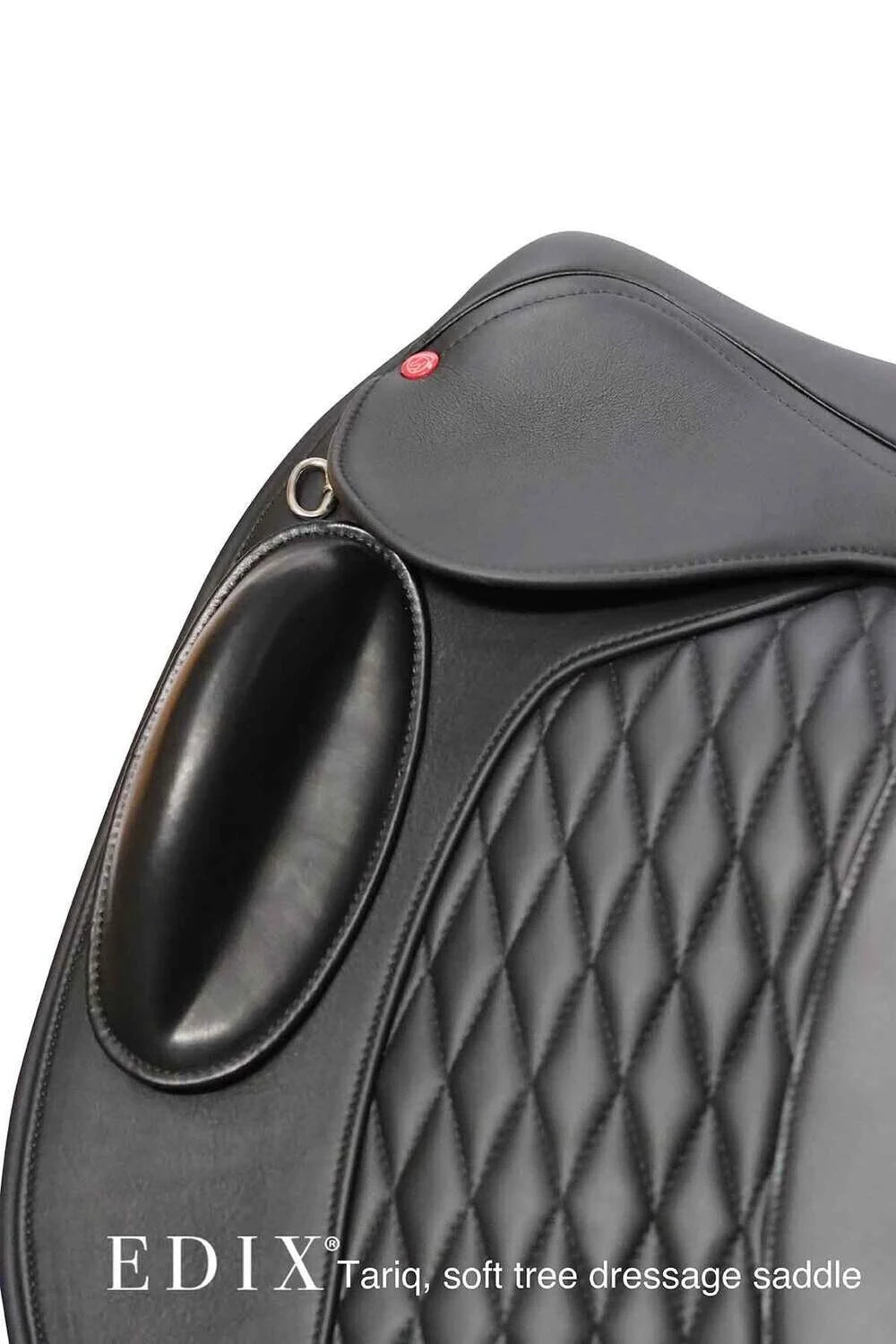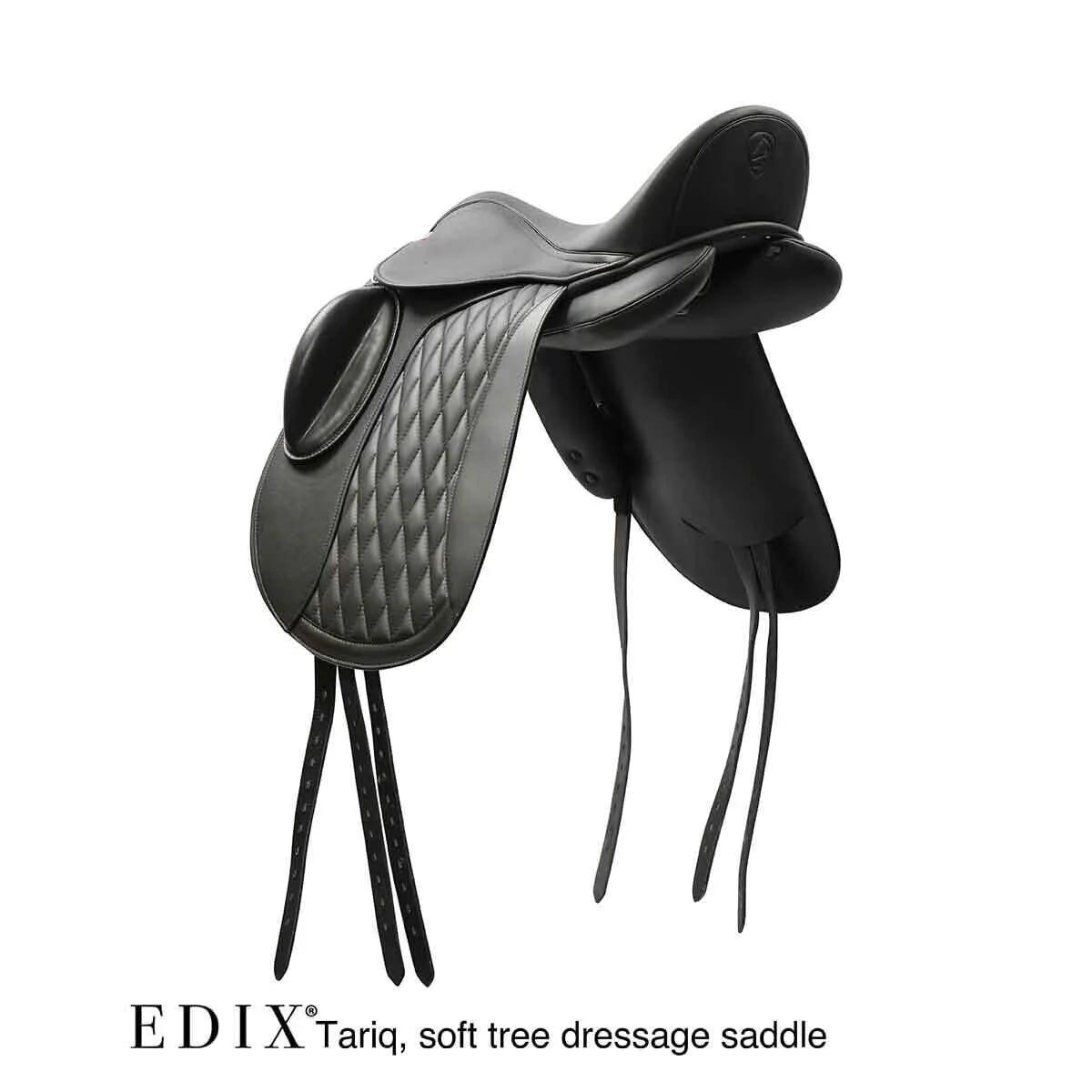 Edix Tariq Dressage Soft Tree Saddle
Sale price

$2,065.00 USD
Regular price
(/)
---
The latest soft tree saddle, the EDIX Tariq, was designed in collaboration with Grand Prix rider Gaëtan Bocklandt and meets all the requirements of the modern dressage rider. The EDIX Tariq is made of soft and supple high-quality Turkish calf leather and the soft leather panels are filled with synthetic resilient wool. The wider flared panels and the spacious cushion channel allow freedom for optimal movement of the spine and ensure correct pressure distribution. The high, tight thigh blocks are movable. The complete combination consists the dressage saddle, stirrup leathers, a pair of high-quality German steel flex safety stirrups and a beautiful designed Merino lambskin saddle pad.

The EDIX® Tariq is called a soft tree saddle because the saddle is much more structured compared to many other treeless saddles, yet the EDIX Tariq dressage saddle is still technically a treeless saddle due the lack of a solid tree. The EDIX® soft tree saddles are built of different flexible soft shock absorbing layers and synthetic wool filled panels, which fully adapt to the horse's anatomy and riders' posture. Due to this construction the EDIX® Tariq soft tree dressage saddle offers the rider a narrower and more balanced seat and still features superb flexibility and spinal clearance for movement of t he horse. The front gussets have a stabilizing built in strap and are stitched for an extremely stable saddle position.

The EDIX® Tariq saddle is designed as a saddle is designed as a standalone saddle. By the lack of a solid tree the flexible materials allow that the saddle to fully adapt to the fully adapt to the horse's anatomy. By growth or muscle development due the increased freedom of movement and correct training, your horse changes shape throughout the season and years of age. With the exchangeable gullet plate system and the refillable panels the Tariq saddle is easily adaptable. In addition there is an easy way to correct temporary saddle position by using a special treeless 8-pocket saddle pad and inlays tailored to the combination.
The EDIX® Y-girthing system, with a base of two front girth straps and a third Y-girth strap, achieves greater strength, durability and improves the distribution of pull from the front and back of the saddle to increase comfort and saddle stability.
Distinctive from many other dressage saddles the stirrup bar connection of the EDIX® Tariq is positioned more centrally of the saddle seat. This is to support correct leg position and helps to reduce pressure on the knees. The Tariq has multiple stirrup hanger positions.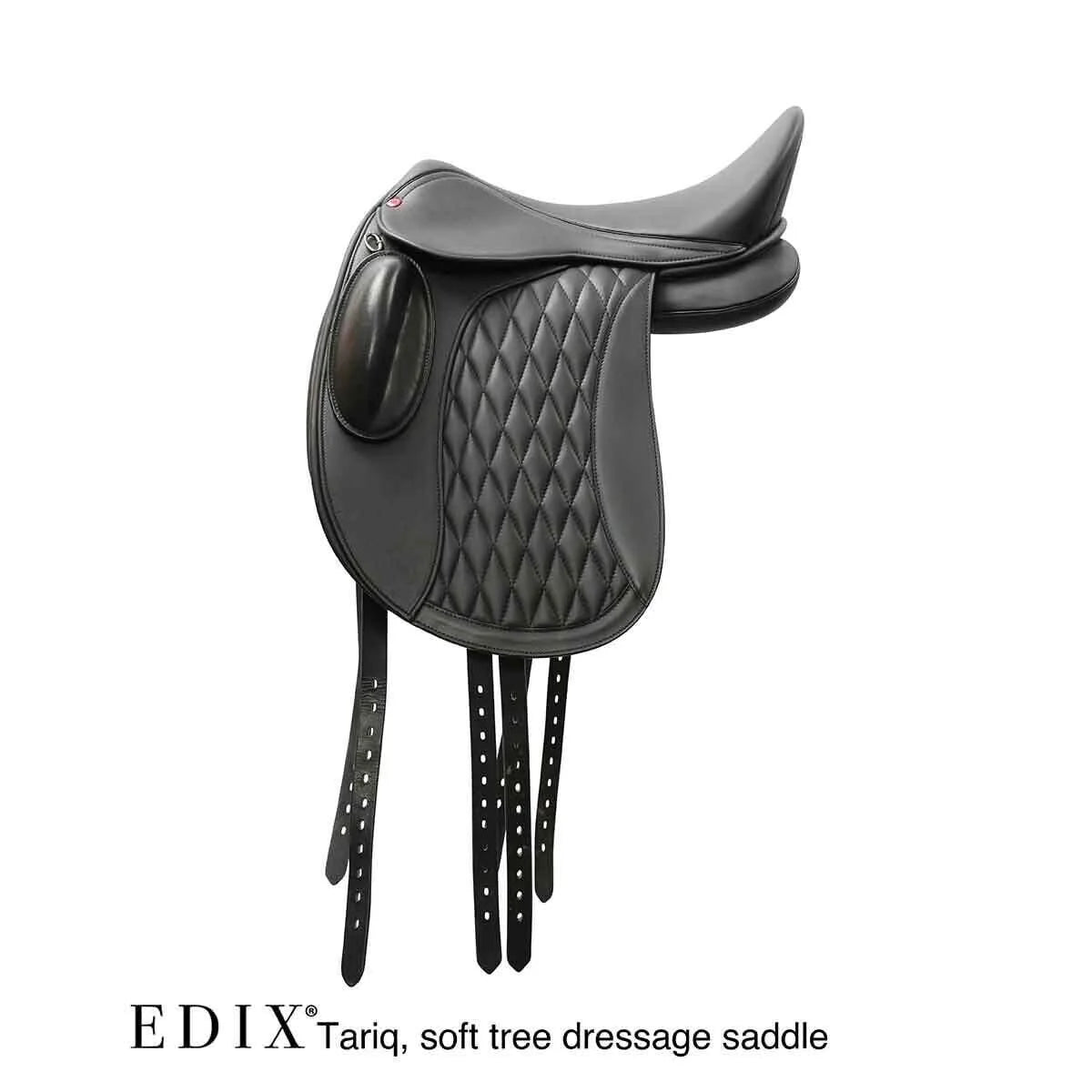 Edix Tariq Dressage Soft Tree Saddle
Sale price

$2,065.00 USD
Regular price
Choose options